National Park Service
The National Park Service cares for the more than 400 national parks in the United States. Missouri's Ozark National Scenic Riverways is the first national park area to protect a river system.
Horseback riding offers an excellent opportunity to experience the Ozark landscape—from open fields where one may encounter feral horses, forested riparian bottomland where one can observe song birds, raptors and water fowl, and upland oak-pine ridges with panoramic views of the river below. Remember—equestrians are restricted to blazed designated horse trails and numbered county gravel roads ONLY! Segments of some of the designated horse trails traverse private land.Out of courtesy and respect for private landowners, public lands, and the environment—all riders are asked to KEEP TO THE BLAZED TRAILS!
SAFETY NOTE:  River fords are signed—and riders are to cross only at these designated fords. For the safety of both rider and mount—always release tie-downs before crossing a river ford. Never attempt to cross any stream or river during periods of high water.
HORSE PATROL:  Horse trails in the Ozark National Scenic Riverways are patrolled by a Volunteer Horse Patrol. Volunteers donate their time to provide park information, guidance, first aid and to be the "eyes and ears" of law enforcement on the trails.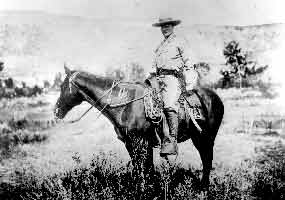 Roosevelt on horseback 1886
"I heartily enjoy this life, with its perfect freedom,…and there are few sensations I prefer to that of galloping over these rolling limitless prairies ,.. or winding my way among the barren, fantastic and grimly picturesque deserts of the so-called Bad Lands…"
Theodore Roosevelt